Cybersecurity and Innovation Online Conference – the new era of civil aviation – 29- 30 October 2020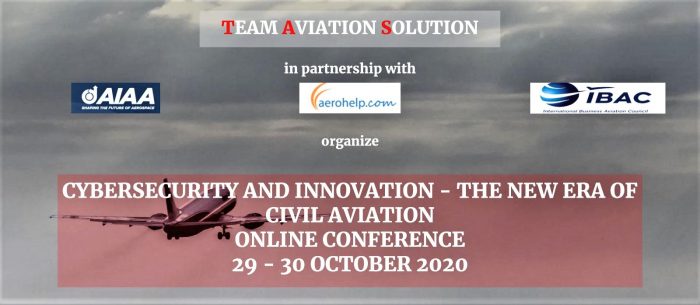 Outline
Uncertain times share the same common feature – that people always come together. Years on the row we have gathered to celebrate civil aviation and stay abreast on the developments that rapidly emerge and to strengthen our connection. This year we meet in a new format, going online. As October is the European Cybersecurity Month (ENISA and EC DG CONNECT) we join forces with our partners, speakers and participants to create an insightful event that tackles on a series of issues in the cybersecurity and innovation fields, especially in these times of uncertainty and need for reform.
As an inuit tale describes, the life-death-life cycle is a natural part of existence and for something to be reborn stronger, brighter, it needs to die a little first. Aviation is going through a crisis, however, it is an opportunity to reinvent itself and come back with a renewed image and strategy, adapting to its never ending challenges.
This event is a contribution to the continuous creation of the common aviation consciousness.
Program
Day 1, 29 October 2020,  18:00 – Virtual cocktail
Zoom invitation will be sent out to all registered participants.
Registered participants will be invited to prepare beforehand a cocktail from the list of recipes to be distributed a day in advance.
Dress code: cocktail
18:10 – Keynote Speaker – Sylvain LEFOYER, Deputy Director in charge of Aviation Security and Facilitation in the Air Transport Bureau of the International Civil Aviation Organization (ICAO)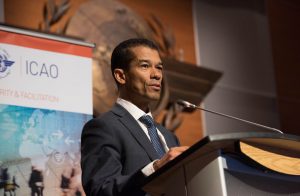 Sylvain LEFOYER is Deputy Director in charge of Aviation Security and Facilitation in the Air Transport Bureau of the International Civil Aviation Organization (ICAO) since 1 March 2017. He leads teams responsible for developing Aviation Security and Facilitation policy, Standards and Recommended Practices (SARPs), developing a Cyber security strategy for civil aviation, conducting audits of Member States' aviation security activities, assisting States that are unable to address deficiencies highlighted by those audits, and implementing the Traveler Identification Programme (ICAO TRIP) Strategy.
Sylvain is secretary of ICAO Unlawful Interference Committee (UIC), secretary of the Aviation Security Panel of experts, and Chair of the ICAO Secretariat Study Group on Cyber Security.
Sylvain has extensive experience at the senior executive level in policy and regulations development, strategy, oversight, crisis management and organization development in aviation security and facilitation.
Previous to his role in ICAO, Sylvain's career in transport safety and security spans more than 25 years in the French ministry of transports. He held various positions, such as Deputy Regional Director for Ground Transport Safety, Security and Defense in the Regional Directorate for Equipment and Urban Planning in the Paris metropolitan area and as Deputy Head of Aviation Security and Defense in the French Civil Aviation Authority (DGAC). Prior to that, he was enhancing his career in air navigation safety from 2005 to 2011, in risk prevention and management from 2002 to 2004, in maritime transport safety and surveillance from 1992 to 2001.
He holds a Master's Degree in applied physics and electronics from Paris University and a Master's Degree in public administration from École des Ponts ParisTech.
18:25 – 19:00 – Breakout room
Understanding cybersecurity – a regulatory and industry perspective – Moderator:
Patrick MANA – EUROCONTROL Cyber Security Program Manager and EATM-CERT Manager (European Air Traffic Management Computer Emergency Response Team).
He has spent his entire career working in air traffic management (ATM). He started 33 years ago working with Thales on aviation software development and project/product management. In 1999, he joined EUROCONTROL, where he led the safety assessment activities. He chaired and contributed to international working groups to develop safety related standards. In 2008, he moved to the Single European Sky Air Traffic Management Research Joint Undertaking (SESAR JU), where he was the Head of the development framework and SJU Programme Manager for all transverse activities including security for six years.
PS: EUROCONTROL is a pan-European, civil-military organisation dedicated to supporting European aviation. It is an inter-governmental organisation composed of 41 Member States plus 2 Comprehensive Agreements States.
2. COVID 19 – cybersecurity implications and challenges for innovation – Moderator: Eugen POPESCU
Eugen POPESCU – CISSP, PMP, Romanian CAA
Eugen POPESCU is Cyber Security Inspector within Romanian Civil Aeronautical Authority. Passionate about strategic thinking, innovation and digital technologies, Eugen has more than 10 years of experience in cyber security domain, in which he genuinely adapted engineering solutions to organizational and social needs. Along the while, he managed important projects in this branch, supporting efforts of aviation cybersecurity, national security, regulation development, policy management and international cooperation. He is currently part of the Romanian Civil Aeronautical Authority's team that develops the cybersecurity framework for the national civil aviation industry.
19:00 – 19:15 – Concert
 ANIMA QURTET
Day 2, 30 October 2020, 10:00 – Panels
10:00 – 11:30 – Cybersecurity – the silent threat of civil aviation
This panel will address the issues currently at debate with respect to cybersecurity as well as the notion of aviation cybersecurity.
The panel will look at cybersecurity from regulatory perspective at international and regional level, followed by presentation from aviation stakeholders with respect to their current challenges, concerns, measures, leading the audience to understanding the threats and risks of aviation cybersecurity.
Moderator and Speakers:
Rashad KARAKY, CYbersecurity Officer, ICAO
Rashad joined ICAO in August 2020 as the organization's Cybersecurity Officer after spending the previous 15 years at the Arab Air Carriers' Organization  – AACO where he held the position of Technical Director. In that position, he managed all issues related to safety, aviation security, facilitation, cybersecurity, emergency response planning, air traffic management, and engineering & maintenance, as well as the relationship with ICAO Middle East office and its groups. Prior to that Rashad was employed in the computer software industry as a software designer, with a focus on anti-hacking and anti-cracking techniques. He hold a BS in Computer Science and an MBA from the Lebanese American University in Beirut – Lebanon, as well as the Aviation Security Professional Manager Certification from ICAO and Concordia University.
Eugen POPESCU, Romanian CAA
Jeffrey TROY, President, CEO, Aviation ISAC
Over the past four years, Jeff has developed the A-ISAC comprehensive strategy, led the team's expansion of the Aviation ISACs services, and tripled membership. He established relationships with global regulators, industry associations, and private sector companies to drive cyber risk reduction across the aviation eco-system. Concurrently, Jeff is employed by General Electric and is on the Board of Directors, National Defense ISAC.
Jeff spent 25 years as a Special Agent of the FBI. He retired as the Deputy Assistant Director for Cyber National Security and Cyber Criminal Investigations.
Octavian THOR PLETER, Professor Faculty of Aerospace Engineering, Politehnica University
is a multidisciplinary scientific researcher, with a wide scope of research in aerospace engineering. He is Associate Professor and Ex-Dean of the Faculty of Aerospace Engineering, University Politehnica of Bucharest, responsible for the new programs of studies Air Navigation (since 2009) and Air Transport Engineering (since 2013). He teaches Air Navigation Systems and Avionics.
 Graduated the Faculty of Aerospace Engineering of the University Politehnica of Bucharest, specialization Aircraft, major in Avionics (1986)
 MBA of the University of Manchester (2002)
 Fellow of the Royal Aeronautical Society, Associate Fellow of the Royal Institute of Navigation
 National Contact Point for Romania of the European Aeronautics Science Network (EASN)
 Senior Member of American Institute of Aeronautics and Astronautics (AIAA)
Awards and Distinctions
 Cum Laude distinction for the PhD thesis in aerospace engineering sciences (2004)
 Richey Medal 2017 awarded by the Royal Institute of Navigation for the best scientific paper of the year published in the Journal of Navigation, Cambridge University Press
Elie Carafoli medal and diploma for outstanding contributions to the Romanian aerospace engineering education (2000)
 Aloft Group Award 2011 for excellence in aerospace engineering education
Stefan SCHWINDT, AeroSpace and Defence Industries Association of Europe
Current Position as Principal Product Security Leader at GE Aviation however presenting on behalf of ASD
Member of ASD Civil Aviation Cybersecurity Taskforce
Member of AIA Civil Aviation Cybersecurity Subcommittee and co-author of recommendation reports
Industry (ASD) representative on the European Strategic Coordination Platform (ESCP) for Aviation Cybersecurity Rulemaking
Industry (ASD) representative on the European Cybersecurity for aviation Standards Coordination Group (ECSCG)
Chairman of the released ED203A standard for airborne cybersecurity
Chairman of the ED201A standard in work for interorganisational cybersecurity
Participant of the ED204A standard for Cybersecurity Continuing Airworthiness
Participant of the ED205A standard for securing aviation ground systems
Participant of the EUROCAE standard for information security event management in aviation
Participant of the SAE G-32 activities for cross-industry cybersecurity development standards
Expert on ICAO Trust Framework Study Group
12:00 – 13:30 – Innovation – the way forward
This panel will discuss issues regarding the use of drones in the fight against COVID 19 and the potential impact of a cyber threat on their use as well as new trends in civil aviation.
Moderator and Speakers:
Steve LEE, Aerospace Cybersecurity Program Manager, American Institute of Aeronautics and Astronautics
Steve Lee leads the new aerospace cybersecurity program at the American Institute of Aeronautics and Astronautics, with the goal of integrating cybersecurity into aerospace discipline and practice. He is currently focusing his unique combination of cyber protection and strategy experience—in industry and in the Federal policy arena—to build the AIAA aerospace cybersecurity program. Steve has a keen eye for adapting organizations, policies, and people to new security and technology challenges, as demonstrated by his successful leadership of cyber and regulatory compliance projects in industry. He also coordinated business and talent strategy efforts to grow and sustain a Fortune 500 consulting company's world-class cyber workforce.
Steve previously provided senior-level expertise on physical and cyber infrastructure protection and intelligence program policy for client engagements at the US Department of Homeland Security (DHS), including analysis of threats to dams, energy, rail, transit, and other critical infrastructure. He has over 25 years of program management, critical infrastructure protection, and national security experience, including over 16 years supporting DHS and the US Intelligence Community (IC), with analysis of cyber, terrorism, and weapons of mass destruction issues, and nearly five years in the U.S. Army. He has also served in leadership and sales roles in aviation and media organizations.
David Hild CEO of Fly Green Fund
Fly Green Fund is working non-profit to increase the use and demand for SAF by offering air travellers, businesses and public organizations an option to traditional offsetting.
Jes HALIM NAUCKHOFF, Manager, Aviation Environment, International Air Transport Association
Jes Halim Nauckhoff is Manager, Aviation Environment, at the International Air Transport Association (IATA). He works in the team responsible for the policy and regulatory portfolio and advocacy with external stakeholders on environmental affairs. Jes is also nominated as an industry expert to the ICAO Committee on Aviation Environmental Protection.
Prior to joining IATA in 2013, Jes held several positions in the travel and tourism sector in Asia, Africa and Europe where he engaged in a variety of different sustainability topics, including environmental management, impact assessments and renewable energy.
Complementing this experience, Jes holds a Master of Science (Msc) in Environmental Sciences with a specialization in Sustainable Development from Utrecht University in the Netherlands.
Scott C. Kordella Senior Advisor Space Systems MITRE
Scott Kordella is a systems engineer specializing in Intelligence, Surveillance and Reconnaissance systems engineering with over 35 years of experience in radio frequency system design and operations. He works across the National Security, Civil, Commercial and International Space domains, to develop and implement strategies that are shared between MITRE's National Security Sector and Public Sector sponsors. He holds a B.S. in physics from the University of Maryland, an M.S.E.E. (electrophysics) and Doctor of Science (electrophysics) from George Washington University. He is a Registered Professional Engineer in the Commonwealth of Virginia, a Senior Member of the I.E.E.E., and an adjunct professor at Piedmont Virginia Community College.
Dr. Catalin NAE, Director General National Institute for Aerospace Research "Elie Carafoli"
Education:
Master in Aerospace Engineering from University Politehnica Bucharest
Master in Mathematics from University Bucharest
In Aeronautics from University Politehnica Bucharest
Post-Doc – Royal Society Fellow – Glasgow Univ. U.K.
Training:
NATO/DAAD Senior Fellowship in High Performance Supercomputing, Germany
NASA, visiting scientist, Johnson Space Center, USA, 1996
Royal Society Fellowship – UK
Dassault Aviation – France, guest scientist
von Karman Institute for Fluid Dynamics – Belgium, guest scientist
INRIA – France, visiting scientist – France
He acted as Project manager for many strategic projects (selection):
IAR-99 SOIM lot 2 – wind tunnel program manager
MIG-21 LANCER – wind tunnel program manager
AeroTAXI Program Manager
Clean Sky BLADE – Program Manager on behalf of INCAS Cluster (Airbus fixed wing demonstrator)
Clean Sky2 RACER – Program Manager on behalf of ROR Cluster (Airbus fast helicopter demonstrator)
Employment:
President of the Board and CEO of INCAS – National Institute for Aerospace Research "Elie Carafoli" since 2007
President of EREA (European Research Establishments in Aeronautics Association) 2018-2019
President of STAI (Supersonic Tunnel Association International) since 2017-2019
Former Vice-President of Governing Board of EU JTI Clean Sky
Member of ACARE Plenary (Advisory Council for Aeronautical Research in EU), since 2006
Co-Chair of ACARE-IRG (Advisory Council for Aeronautical Research in EU), since 2017
Former member of the Board of ROSA – Romanian Space Agency
Member of CCCDI – Romanian Advisory Council for R&I since 2013
Romania national expert in PC6/7-Transport/H2020 since 2006
14:30 – 15:30  – Breakout rooms
Cybersecurity – tabletop exercise
Cybersecurity – understanding the threat
Cost
119 Euro
Register by 22nd October and pay only 90 Euro.
What do you get
Access to the conference and breakout rooms
Meet the speakers
Meet the participants
Network and connect
Meet companies
Upskill through expert – led breakout rooms
Download our EVENT BROCHURE  – Event Cybersecurity and Innovation_Invitation
Register NOW!
Registration Form_Cybersecurity and Innovation Event
Our Partners
American Institute of Aeronautics and Astronautics
https://www.aiaa.org/

Institute of Air and Space Law – AEROHELP
https://aerohelp.com/en

International Business Aviation Council 
https://ibac.org/